A new year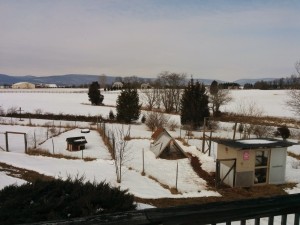 Wow. A whole year has gone by without a post or other update to LLF. Shame on me. I will try to do better this year. The worst part of no updates is that I don't remember the details of what I planted in the garden and when and what the weather was like and how well the varieties produced. I don't remember details about the chickens and ducks and my bees.
I did set up a separate website for a small group of us beekeepers and there was quite a bit of activity on that site. We called ourselves the Honeybee Wranglers and as 2015 progresses we will hopefully build on that information. It has been a long and cold winter just like last year. Maybe not as much snow, but just as long and cold. It is tough for the bees to keep warm and protect the queen and the little bit of brood she may have started producing. So I may not post much about the bees here on the LLF main site, but I will continue to contribute to the Honeybee Wranglers.
In summary, we didn't do much new with our chickens. We had two chickens die last week. Duran who had some neurological problems in the middle of last year and whom we kept separated from Big Red all fall was found one morning with a very full and hard crop and slumped in the corner of his enclosure. We tended to him in the house for about 24 hours, but he didn't make it. And then a few days later one of the younger hens was found dead on the floor when we went to open things up in the morning. There was a few other losses over the year. We lost a guinea a few weeks ago – literally lost- as she just disappeared. The guineas can fly out of their yard and perhaps she just got spooked and flew off somewhere and never found her way back. We are down to four now.
We lost a duck to a hawk in early December when we were on a trip to Ohio. Our house sitter called us as we were driving west to give us the news. There were at least two more deaths in the fall. They were only a week or so apart, so I took the second one to the animal health lab for a necropsy and it was determined that she had ILT (Infectious Laryngotracheitis). The state chicken inspector paid us a visit and took cultures (oral swabs) from five birds in each of our three coops. Only the coop where the two chickens died came back positive for ILT, but as a result we were quarantined for two or three months. This means that we take any of our birds off the property during that time. The ban was lifted at the beginning of this year, so we are free to show our championship foul at all the local competitions. Ha ha – not something we do anyway. The virus that causes ILT is a herpes virus and so will be with the birds for life and can be transmitted to other birds. We never saw any of the usual signs of sickness in our flock, but the virus can become life threatening if the birds are ever stressed.
Didn't find any related posts :(